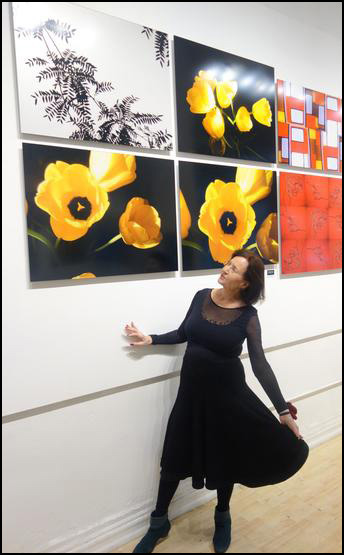 Frances J. Frawley has been engaged in many forms of art throughout her childhood and adult life. She has been sharing her passion for the arts with everyone around her, children, family and friends. She has inspired others to new heights of creativity.

Frances has shown us that, as the sun transforms our world, we are aware of our ability to shape our future.

She has created a genre called Juxta Art, where the things in our lives that have nothing in common, merge visually, like a cracked cement wall and a peaceful trout stream in the Fall.

Frances was educated at the George School, Vassar College, the University of Tennessee Graduate School of Art Education and the Sogetsu School of Flower Arrangement in Kanazawa, Japan.

She has done visual aides for many galas and events, and had a one-woman exhibit of painting and drawings in Knoxville, Tennessee. Her thesis and slide talk, The Elements of Art, is being used as a teaching aid in the Art Education Department.

Frances is an active and vibrant person who shares her talents with all those around her, in art, dance and poetry. There is an art room in her home where people of all ages engage in painting and collage. Makeup brushes, corrugated paper and feathers are some of her original tools for painting.

A photo of a dusty shovel in the sun, and shadows on the street which look like a branch of cherry blossoms are images which tell the story of our life.